Check out these 10 prime resorts in Mactan, Cebu:
1. Mövenpick Hotels & Resorts
, an upscale hotel management company from Switzerland arrives in the Philippines, opening its 15th hotel in Asia. The Mediterranean inspired enclave, set on its own private beach on Mactan island, offers white sandy beaches and excellent diving and snorkeling with its own small house reef. The resort with its impressive range of room categories from deluxe, executive rooms to the two bedroom Executives Spa Suites, contains three executive floors and an executive lounge where you can work or relax from the daily business stress. Five restaurants and bars as well as open kitchens, a fully equipped health club, professional gym, steam room and garden spa pamper the guests at any time of their stay. Friendly staff, an inviting palm tree garden and the white beach will make your stay in the Mövenpick Hotel & Resort an unforgettable one.
Check out room availability and prices at Movenpick
Mövenpick Resort & Spa Cebu
Punta Engano Mactan Island
6015 Cebu
Philippines
Phone:+63 32 492 7777
Fax:+63 32 492 7704
E-mail: Resort.Cebu@moevenpick.com
2. Plantation Bay
: Located on the south end of Mactan island with one of the greatest lagoons for swimming in the Philippines, it offers tennis courts, where the Davis cup match between Japan and the Philippines was held in March 2011. (www.plantationbay.com)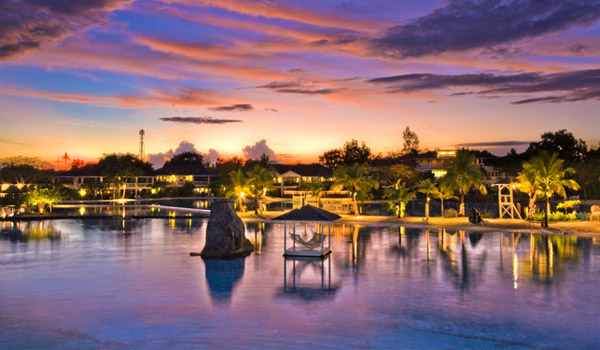 Plantation Bay Resort and Spa
Marigondon, Mactan Island
Cebu, Philippines 6015
Tel. + 63 - 32 - 505 9800
Fax + 63 - 32 - 505 9818
3. Imperial Palace Hotel
: A Korean Hotel development with a lot of watersport activities but a small beach section. The Greek-Mediterranean architecture of the resort creates an inviting and relaxing atmosphere in a world-class, 7-star setting where guests can have the best in both luxury and leisure. At Imperial Palace Waterpark Resort and Spa, the interior differs from room to room. Amenities within the room are exclusively manufactured for the hotel, and chosen for its quality and beauty, in order to satisfy even the most discerning guest. (www.imperialpalace-cebu.com)
4. Maribago Bluewater Resort
: A family operated resort (the Alegrado family; Ms. Arcadio Alegrado, the owner of the resort is also the Austrian Honorary consul in the Visayas), with 3 different pool areas, spa, some theme restaurants as well as two bars with great happy hour drinks, offers beach cottages as well as modern designed hotel rooms to their guests. The diving facility of Maribago Bluewater, Aquamania, with their chief instructor Ms. Nelson invites you for some nice dives nearby or some great unforgettable island hopping offers as well as other watersport activities. (www.bluewater.com.ph)
5. Costabella Beach Resort: Costabella Tropical Beach Hotel is a beachfront paradise along the tranquil eastern shores of fabled Mactan Island, known for its beautiful white sand beaches, blue seas, sunny skies and hospitable people. It is ideally suited for families seeking a fun-filled holiday in friendly and casual surroundings. The feeling here is relaxed and cozy with that special "personal touch" which makes it particularly popular. (www.costabellaresort-cebu.com)
6. Tambuli Beach Resort (east and west): Sparkling stretches of white sand and crystal waters wait for you in this seaside sanctuary. White coral sand beach, calm turquoise waves, superior resort facilities – they're all in Tambuli Beach Club. Situated close enough for a quick escape from the bustle of the city, the island resort offers dynamic recreation activities and a lot of rolling good times from dawn till dusk. Play around on the surf and even on the sand, gather seashells and memories. (www.tambuli.com)
7. Crimson Resort and Spa Mactan
: Newly opened in 2010 with a wonderful beach, nice cottages and an inviting pool area. Snonymous with luxury and personalized service, Crimson Resort and Spa is the new destination and resort to experience. Nestled in one of the country's most prestigious tourist destinations, this exclusive piece of paradise is just 15 minutes away from the Mactan International Airport. The sprawling 6-hectare resort features world-class accommodations with amenities and facilities carefully detailed to achieve an ideal marriage of both comfort and style. There are 250 suites and rooms and forty villas with thirty eight plunge pools. It is also home to the 2000-square meter spa called Aum, the distinctive Grand Coral Ballroom and four uniquely designed food and beverage outlets. (www.crimsonhotel.com)
8. Portofino Beach Resort: Portofino Beach Resort is situated at Bo. Angasil, Mactan Island, Lapu Lapu City. It's a 10-15 minutes drive from the Mactan Internation Airport, but it would take you roughly 30 minutes if you are coming from Cebu City. Public transportation like cab, jeepneys and pedicabs are also available at your disposal. It is not a first class high-end resort, yet if you are on a tight budget, this resort can offer you a lot. Amenities are really comfy and affordable. (www.portofino-mactanislandcebu.com)
9. Shangri-La Resort and Spa
: Shangri-La's Mactan Resort & Spa, Philippines' largest and most exclusive deluxe resort gives its guests the ultimate tropical paradise vacation experience. Located in Cebu, this idyllic resort with its beautiful private beach offers an exciting range of recreation activities and superb cuisine. Every guestroom blends tropical decor with modern amenities and private balconies provide panoramic views of the Visayan Sea and outlying islands, making it a perfect getaway for fun and relaxation. (www.shangri-la.com/en/property/cebu/mactanresort)
10. Be Resorts Mactan
: Escape from the frenzy and bustle of city life and give in to the gentle allure of BE Resort Mactan. Surrender to the promise of peace and quiet and have pillowy white sands tickle your toes while you take in the majestic expanse of crystalline blue skies. (www.beresorts.com)
Check out more resorts in Cebu